A Passport to New Perspectives
NC State students trek across the globe each year to make the world their classroom. From the UK to Iceland, China, Ghana and more, study abroad opportunities offer hands-on education and unforgettable experiences.
"The university's study abroad history goes back nearly 40 years, to our first study abroad program in Oxford, England," said Kim Priebe, director of NC State's Study Abroad Office. "We continue to experience amazing growth as our students seek out opportunities to grow personally and academically in an increasingly globalized society."
Recent successes reflect NC State's commitment to make study abroad available for all students. The Study Abroad Office announced this summer that the university had surpassed its 2019 Generation Study Abroad enrollment goal one year early. NC State's goal was a 50 percent increase in study abroad participation overall and among historically underrepresented students.
Part of the increase can be attributed to unique opportunities that pique students' interest. These include programs in Botswana and Ghana, covering public health and communication, and globalization, culture and social justice, respectively.
New Offerings
Study abroad participation should continue to grow with a host of new offerings starting in summer 2019. These include:
"What's great about these new programs — along with our current offerings — is that the break the mold of the traditional study abroad experience," said Priebe. "Students can choose from a range of unique courses, and experience internships and career options in an international setting."
Faculty Focus
Of course, faculty also benefit from the study abroad experiences enjoyed by so many students. Faculty may apply to lead new study abroad programs or join existing programs like the one in Oxford, which seeks a couple of faculty members to teach STEM and General Education Program courses.
Faculty may also pursue their research while teaching abroad. Larry Silverberg, a professor in the Department of Mechanical and Aerospace Engineering, conducts research via a study abroad program in Namibia on protecting wildlife from poaching and further decimation in Africa using unmanned aerial vehicles (drones). Professors work alongside students in the Andros, Bahamas, program conducting research related to conservation biology.
A Global Eye on the Future
Representatives from the Office of Global Engagement and the Study Abroad Office will travel to Egypt in December to finalize a new exchange program at The American University of Cairo. This will mark the first opportunity for NC State students to study in Egypt since the Arab Spring in 2011. They will also visit Israel to discuss possible new collaborations, including study abroad, at at Technion – Israel Institute of Technology, Ben Gurion University, and Tel Aviv University.
Additionally, the Study Abroad Office plans to offer additional locations for its popular First Year Inquiry program — currently only offered at the NC State European Center in Prague — in fall 2020. FYI is a two-week program where students earn course credits that count towards their degree before the start of their first semester on campus.
With current growth holding strong and new programs and initiatives on the horizon, study abroad is poised to become further integrated as an essential NC State experience. NC State faculty who teach abroad gave us some insight into why.
Study Abroad Spotlight
Program: South Africa: Wildlife Management and Conservation
Faculty: Shweta Trivedi, teaching associate professor, Department of Animal Science; director of VetPAC
"Our programs help make NC State students cutting-edge and very competitive. My mantra is that if you are studying abroad and immersing yourself in another culture, you have to have a deeper experience than just a tour. You have to get your hands dirty and get a real-world experience, and we do that."
"We work with South Africa World Vets and intensely observe veterinarians interacting with farm animals and large wildlife in Kruger National Park. Our students get to see and in many cases participate in the veterinary work done on antelopes, deer, kudus, impalas, sables, roans, rhinos, giraffes and more. They're constantly engaging in hands-on experiences that will serve them well in their future careers, whether that be in veterinary medicine, wildlife conservation or something else."
Program: China: Engineering, STS (Science, Technology and Society), and International Relations in Hangzhou
Faculty: Lisa Marshall, director of outreach, retention and engagement, lecturer, adviser, Department of Nuclear Engineering; Clifford Griffin, associate professor, School of Public and International Affairs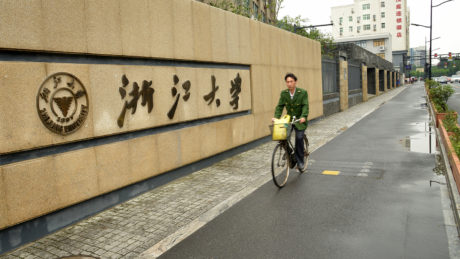 "The program originated in 2007 from a partnership between Zhejiang University and NC State, due in part to their history of engineering excellence. Students get an outstanding depth of experience in engineering, international relations, technology, Mandarin language and Chinese culture. It really is a jewel in the NC State study abroad experience."
"We take various excursions in Beijing — visiting Tiananmen Square and the Great Wall of China — eat traditional Chinese food like Peking Duck, and travel via high-speed train to Hangzhou. Cultural immersion and creating cultural competency is an important component, as is the experiential education gained when visiting and learning more about multinational corporations with a presence in China — like Caterpillar. Engineers must learn to be at home anywhere in the world, and we're doing that with study abroad. We're preparing students for life after graduation in an increasingly competitive global economy."
Program: South Africa: Ecology, Past and Present
Faculty: Adam Hartstone-Rose, associate professor, Department of Biological Sciences
"We will visit different ecological zones in South Africa and explore the parallels between the environment there and in North Carolina. Our students also will also visit the Apartheid Museum and Robben Island where Nelson Mandela was held. We're going to talk about colonialism and how that relates to modern political discourse. We want to give students a full understanding of the country to give them a well-rounded educational experience."
"I'm passionate about creating opportunities for undergraduates. I want students to see the typical South African megafauna and various ecologies in the coastal region. It is really important to get as rich a college experience as possible, and college is the best time to explore things you may be interested in or have always dreamed of doing. I really encourage students to take advantage of all the wonderful programs that NC State offers, whether it is in South Africa or elsewhere."
This post was originally published in Provost's Office News.