From the Brickyard to Baku
At a university more than 6,000 miles away from NC State, a crowd gathered to make the iconic wolfies sign.
They were teachers from Azerbaijan, a country roughly the size of South Carolina that borders the Caspian Sea. In June, they gathered at ADA University in the capital city of Baku for a conference that was the capstone of a teacher training program held by NC State's Global Training Initiative (GTI).
The 18-week program is one of the ways the GTI promotes NC State as a tool to help organizations, businesses and government agencies around North Carolina and beyond. The GTI offers 30 to 40 programs a year for students, faculty and professionals. Director Michael Bustle, who also serves as the university's associate vice provost for global engagement, makes sure NC State is a university that springs to mind when governments, businesses and professional organizations are looking for partners, whether to work with English teachers all the way in Azerbaijan or law enforcement officers in North Carolina.
"We can bring the world to campus in the way that we want, in a way that's sustainable and responsible," Bustle says. "There are a lot of people who could benefit from our connections."
A New Global Arm
The GTI came into being in 2006, the brainchild of Bustle, who at the time served as the director of the Office of International Services, which provided immigration services and cultural programs for students and scholars from overseas. He enjoyed the work, but he also saw the potential for NC State to do more.
"I realized that I was a big thinker and problem-solver," he says. "There were a lot of opportunities that came up that we just weren't able to do, and whether it was an immigration requirement or a financial consideration, there were some things that I thought we should be doing as a land-grant to help the companies, the communities, the individuals, the nonprofits, the schools and the government agencies move forward on the globalization scale."
Bustle envisioned a new unit that could forge off-campus connections, much like NC State Extension does for the College of Agriculture and Life Sciences. He took the idea to Provost Larry Nielsen and started applying for grants that would allow groups of students, faculty or professionals from overseas to visit. One grant from the U.S. State Department enabled 20 journalism, international relations and political science students from Brazil to stay for three weeks to learn about U.S. elections.
"For many of them, it was the first time they've been to the United States, and they went back with a terrific sense of the place of North Carolina and the role that we play here," he says.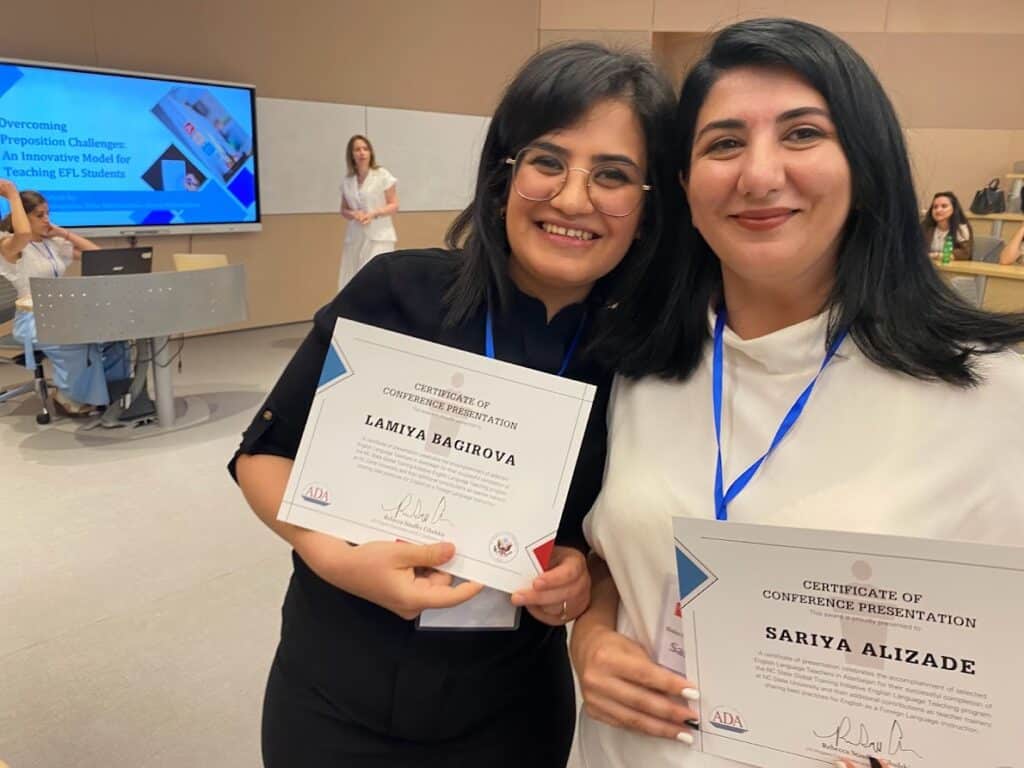 The GTI program kept growing, with more groups of students and faculty coming to campus. It required more and more of Bustle's attention and eventually turned into a full-time role.
"Focusing on the GTI allowed me to meet people all across the university and find out what we're doing — the faculty programs, the research programs — and help them go overseas to do workshops and to host visiting delegations and groups that would come from overseas," he says.
A key part of Bustle's job is touching base with contacts to see if they have any needs NC State can fulfill. That's how the university developed a presence in Azerbaijan three years ago. Bustle was talking with a U.S. Consulate official in Turkey about declining enrollment of Turkish students at NC State. She happened to mention that a friend of hers in Azerbaijan was looking for a school that could provide English-language training. Bustle jumped at the opportunity.
Funding for programs varies. In the case of Azerbaijan, it comes from the U.S. government in the name of "educational diplomacy."
"The State Department wants to make friends in other countries, and one of the ways they do that is by promoting U.S. culture and English language," Bustle says. In Azerbaijan, "there's an appetite for English language there. The U.S. Embassy would love for them to study less Russian and more English."
Teaching the Teachers
Alison Turner also jumped at the opportunity to get involved with Azerbaijan. An assistant professor in the Department of World Languages and Cultures and an expert in bilingual education, Turner began working with the GTI this year. She was one of three instructors in the English Language Training Certificate Program that helps teachers in Azerbaijan improve teaching pedagogies and gain fluency in English.
For about three months, 100 English language teachers from public schools around Azerbaijan gathered online to discuss topics such as cooperative learning strategies and using literature in the classroom.
"We found that Azerbaijan teachers tend to lead more teacher-centered classes, limiting opportunities for students to talk with one another," Turner says. "We encouraged them to look for opportunities to incorporate cooperative learning in which students could share their ideas and experiences in English."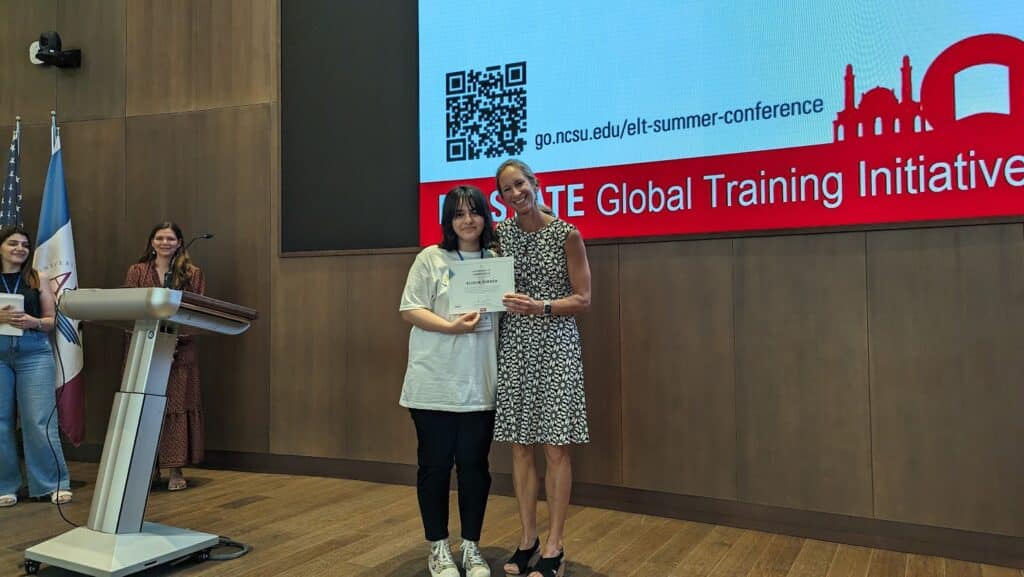 Teachers filmed themselves trying new techniques in the classroom and then gathered online to discuss the results. They also discussed other topics, such as access to resources. Teachers from rural areas of Azerbaijan often lack reliable internet access, and Turner recalls one teacher who carried a projector from her home to school each day.
"What really came through when they would submit videos of their classrooms was how much they loved their students and how much they valued teaching English," Turner says. "They felt very proud of it, were dedicated to the profession and were open to trying to learn and incorporate new strategies that we discussed."
The program culminated in the conference in Baku, where teachers used poster presentations and workshops to share what they had learned.
"It was an opportunity for them to learn from one another and gave teachers an opportunity to present to other English teachers in Azerbaijan," Turner says. "We hope that this work is starting a network of English teachers in Azerbaijan who can support each other professionally, even when our program ends."
A Commitment to Cultures
The demand for fluent English speakers is big, Bustle says, and NC State is ready to meet it.
He's leveraging the success of the Azerbaijan program to promote similar programs in Argentina and Colombia. This fall, the GTI plans to launch English language programs specific to professions, such as English for lawyers and English for doctors. It helps students gain fluency when they discuss subjects that are personal to them.
"With language learning, it has to be personal," Turner explains. "It has to be something they feel they want to express. It has to be part of them to really be effective. You can't just go through drills and think you're going to learn English. You have to express things you're interested in expressing and then get feedback about how you're doing."
The GTI is committed to cross-cultural training as well, Bustle said, which is valuable both for students looking to enter the workforce and graduates who are already there. He wants deans, program directors and senior administrators on campus to know the GTI is a resource for them.
"We aren't looking at race necessarily or gender as the lenses that we use, but culture," he says. "The technical skills that graduates are getting are wonderful, but they are going to work in a varied workplace, a multicultural workplace."
Meanwhile, the program in Azerbaijan will enter its fourth year next year, and Turner hopes it will continue to thrive, plus other programs like it.
"The programs at the GTI are dedicated to helping English teachers develop professionally in their pedagogical skills and in their fluency in English," she says. "It is motivating when teachers tell you how much they have learned from a program and how influential it has been in their development."
This post was originally published in NC State News.